Beschreibung
See better without glasses and improve vision, improve visual acuity and see sharply again with Binaural Beats.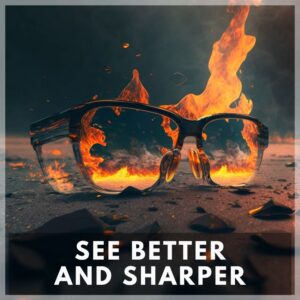 Nearsighted or farsighted? Nearsightedness can appear very early in life and farsightedness usually appears in old age. You can then have your eyes lasered, but this is usually not as inexpensive as you would like. Also, one wonders if one really wants to have a laser pointed at one's eyes. These are thoughts that can occupy one's mind.
If you're farsighted, you can barely decipher the ingredients in a food product and eventually reach for reading glasses. And if you're nearsighted, you may be a successful person as a goldsmith, but there are also many occasions when you want to see more sharply so you can see distant objects better and get your vision back in focus.
See sharper and improve vision. See better with Binaural Beats
Just pick up something you can't see properly or focus on a distant object that you can only see blurry or inaccurately and listen to these frequencies through headphones. So if you are farsighted, pick up a book to read it better. If you are nearsighted, then look into the distance and while listening to the MP3 you will notice that you can see these objects better step by step.
This MP3 has only the pure frequencies, binaural beats, under which a noise has been placed, without music, without additional sounds. Please use headphones. This MP3 is suitable for beginners and advanced users alike.
Duration: 30 min.
Format: MP3, 320 kbps
---
Binaural Beats: "Activate DNA and Healing"
Spiritual Blog: "The Matrixblogger"