Beschreibung
Zen Meditation Music with Binaural Beats
Struggling to slow down and find inner peace? Discover the power of Zen meditation with our binaural beats. Our unique audio technology takes you on a journey of deep relaxation and ultimate mindfulness. Regain control of your thoughts, reduce stress and anxiety while improving your overall well-being.
Start your journey to a calmer, more relaxed life with Zen Meditation today!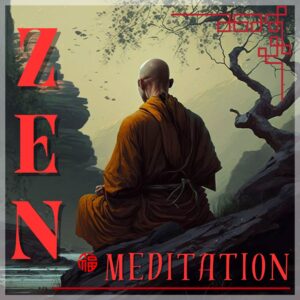 Looking for a way to reduce stress? Get into the Zen state of relaxation with the binaural beats of Zen Meditation Music. Our meditation frequency will take you to a place of deep relaxation and peace, giving you the clarity and focus you need to get through your day. Enjoy the benefits of meditation in just a few minutes and see how it can change your life.
A session inspired by the brainwave pattern of Zen mediators and specifically designed for people who have trouble entering trance states or relaxing themselves.
This is a meditation session that stimulates the upper theta, 7 Hz: lower than Schumann meditation sessions, but higher than regular theta meditation.
This session is inspired by the work of Maxwell Cade and his research with experienced Zen meditators. Cade noticed that this pattern occurred after deeper Zen meditation music, and is often referred to as the "afterglow of meditation."
This session also uses a "Variable Onset Technique," which uses multiple stages, each starting at a lower frequency. This method is useful for people who have trouble entering trance states or relaxing themselves.
Learning Zen meditation – to develop more energy to organs and for physical health
In Zen meditation, it often helps, especially for beginners, to breathe consciously. Through the calm, deep breathing, the organs are better supplied with energy. Last but not least, meditation also benefits physical health.
Zen meditation music is in itself very simple and yet extremely effective. Through the conscious perception of the moment, one learns to remain more relaxed in everyday life and to act more confidently. However, simple does not mean that you would become a meditation professional from one day to the next, because for successful Zen meditation you need patience, practice and the willingness not to primarily want to understand everything, but simply to observe.
Zen meditation comes from Mahayna Buddhism and can be traced back to the teachings of a 6th century Buddhist meditation school.
Zen Masters and Zen Meditation Music
The Zen masters, when asked by their students what Zen actually was, liked to give the answer: "Nothing", so as not to create illusions with the thought. Nevertheless, the answer conveyed an important message: "Put aside everything – your opinion, your destiny, and your situation. Do everything from moment to moment. Then there is no subject, no object, no inside, no outside. Inside and outside become one."
Please use headphones. For MP3 players, please make sure that only simple stereo is turned on and no features like surround stereo or mixed or joint stereo.
Duration: 45 minutes
Format: MP3, 320 kbps
---
Recommended links:
The great book of Jonathan Dilas "Lucid Dreaming, Astral Travel and the Pineal Gland"
House Recommendation – Frequency with more than 800.000 views on Youtube: "Dilas Brain Kick"