Beschreibung
Dissolve allergies with isochronic tones as a remedy for hay fever, pollen allergy, as a support for allergy treatment and to be able to fight allergy symptoms.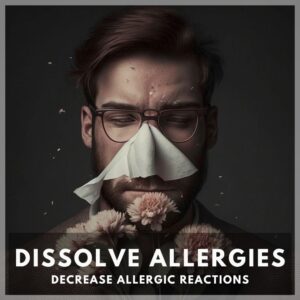 Allergies very often appear as a reaction to one's diet. The body sends a signal in the form of a pseudo-allergic reaction or as an intolerance reaction to certain foods. For example, in the case of hay fever, one should not start thinking that the body is allergic to nature. The body has never been allergic in any way to nature or to trees, flowers and plants, animals or anything else that has come about naturally. This is a false belief.
The body can only be allergic to it if there is a crossover element, that is, once a certain food has been ingested that has been improperly or adversely treated in some way, and one then comes into contact with something that the undeclared additives in the previously ingested food or drink react to it.
Now one can learn what foods the body does not like and at the same time listen to the brain frequencies that help to alleviate or eliminate the allergic symptoms. This helps not only with the so-called "pollen allergy", which is of course none, with hay fever, as well as on all possible allergy symptoms of any kind. An ingenious and always proven method, a home remedy for allergies, to be able to dissolve allergies.
Also helps with cat hair allergy, cat allergy, as a home remedy for hay fever and support for hay fever treatment.
The MP3 with these frequencies helps to provide the body with the support to mitigate its allergic reactions. Be it lactose intolerance, gluten allergy, histamine intolerance, hay fever, dust and hair allergies and many more.
This MP3 has only the pure frequencies, isochronic tones, under which a noise has been placed, without music, without additional sounds. Headphones are not required.
Duration: 30 min.
Format: MP3, 320 kbps
---
Recommended Links:
Binaural Beats: "Activate DNA and Healing"
Spiritual Videos: "Matrixxer en Youtube"