Beschreibung
Learn telepathy and use telepathic abilities, practice thought transference and mind reading with Binaural Beats.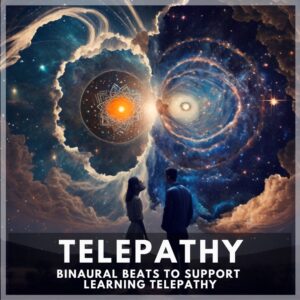 The PSI skill telepathy makes it possible to be able to read other people's thoughts.
This presents a very special attraction when, for example, you want to know what the nice neighbor or the pretty neighbor across the street might be thinking. With telepathy, one can learn to perceive and become aware of the thoughts of others more readily and converse over long distances.
In our world, telepathy is not so welcome. What if everyone knew fully about everyone else? There would be no more secrets, no more murder or deceit, and no more secrets. Not many people would be willing to reveal themselves like that, because many people always have selfish goals. For this reason, technology is used, such as sending text messages or messages via Whatsapp and other chats, to replace telepathy and to practice thought transference and mind reading. They replace the ability of telepathy to send messages to whom within seconds.
If you look at it closely, this is quite comparable to the ability of telepathy to be able to practice telepathy between two people – just on a technical basis. Using telepathic communication is highly practical.
Using telepathic communication with your own telepathy instruction and practicing telepathy between two people
Are you ready to face telepathy? Are you open enough with your consciousness to accept this challenge? And are you really ready to read other people's minds, bluntly, undiplomatically and free of any embellishment? Then this MP3 is just what you need to learn telepathy and use telepathy.
This MP3 has only the pure frequencies, binaural beats, under which a noise has been placed, without music, without additional sounds.
The MP3 can be used for beginners and advanced.
Duration: 40 min.
Format: Mp3, 320 kbps
---
Recommended links:
Binaural Beats: "Activate DNA and Healing"
Videos Espiritual: "Matrixxer en Youtube"