Beschreibung
Establish afterlife contact and Contact Beyond by yourself with Binaural Beats and talk to the dead and deceased loved ones, as well as communicate with the afterlife.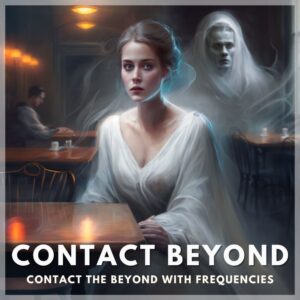 These frequencies, Binaural Beats, put the brain in a state in which it is much easier to open up to the perception of the deceased and to be able to establish contact with the beyond oneself. In this state it is much easier to communicate with the beyond and to speak with loved ones who have died. Many wish to have a last conversation with a relative or friend and it was no longer possible on the physical plane because they died prematurely. With these binaural beats, it is possible to make contact with the afterlife yourself and to speak with the dead.
Communicating with the beyond and speaking with the dead and Contact Beyond
Some can then hear them, others can even suddenly see them. These tones should definitely be listened to at night. You can also listen to these tones in groups to establish a common contact and to be able to talk to the deceased or to communicate with the beyond in general. Also good at séances or Ouija board sessions (glass moving). It can get spooky.
Attention: The Matrixxer are not responsible for self-invoked ghostly apparitions. Everyone uses these frequencies at their own risk!
This MP3 (Contact Beyond) has sounds, ambient sounds for atmosphere and frequencies, binaural beats. They are also accompanied by a hissing noise. Please use headphones.
Duration: 60 min.
Format: MP3, 320 kbps
---
Recommended links:
Brain Kick Frequency with more than 800.000 views: "Dilas Brain Kick"
Spiritual Blog: "The Matrixblogger"